Coxe: A Photographer at Our Doorstep
By Pauline Hodencq
Photographs have a unique way of capturing a glance of a moment that can be remembered for a lifetime. Just like any other form of art, photography is a glorified means through which one can see an artist's perception of life and what seemed relevant, or beautiful to his eye.
I see photographs as a snapshot of history. Over the years, many have captured scenes of genuine human kindness during times of war, the miracle of life, or even simple sightings that cannot escape your mind. The Greenville County Historical Society is lucky to house over 5,000 images from the collection of photographer William B. Coxe.
Mr. Coxe was born in Sanford, NC and raised in Pennsylvania. He moved to Greenville shortly after WWI where he established himself as a professional photographer. The Coxe Collection began with his purchase of photographs taken by James Huntington and William Preston Dowling prior to 1920 when Coxe moved to Greenville. His office was located on top of the Woodside building where he stayed for 55 years.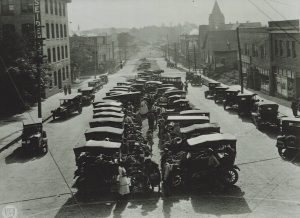 The Coxe collection is a vestige of early 20 th century Greenville. By the 1920s, Greenville was a thriving metropolitan center due to the textile industry. He did not photograph a particular genre: one day he would focus on church buildings, on another day historic houses, and sometimes even on chickens.
Many of his photographs were published in the Greenville News. Mr. Coxe was an active member of his community and became president of the Greenville Art Association. Later in his career, the MGM-International Newsreels hired him to film shorts across the nation, and he became very famous for his aerial pictures.
After his death in 1973, his family generously gave the Greenville County Historical Society some of his old cameras, a collection of old photographs and over 120,000 negatives. This local treasure almost disappeared if it had not been for the collaboration of many people and organizations that helped save some of the damaged nitrate negatives.
Curious to know if Coxe took a picture of your grandmother's house? Or what Main Street looked like back in the 1940s? Stop by the Historical Society to find out.
The author is a Furman University student and intern of the Greenville County Historical Society.