The Greenville News Building
The Greenville News Building was constructed in 1914 and dominated the eastern side of South
Main Street, south of Broad Street. The Greenville Daily News had been established in 1874 by A.
M. Speigths and was published in both daily and weekly editions. Bony Hampton Peace operated a
printing business in Spartanburg before moving his operation to Greenville. In 1916 he became
business manager of the Greenville Daily News and acquired controlling interest in 1919, changing
the name to the Greenville News. Within 10 years he transformed a languishing newspaper into a
leading publication. In 1927 Peace acquired an evening paper, the Greenville Piedmont.
The News-Piedmont Building became an even more dominant feature of the South Main Street
skyline after the erection of a large clock on its roof in 1947. The building was demolished in the
1970s and replaced by a new office and plant for the newspaper.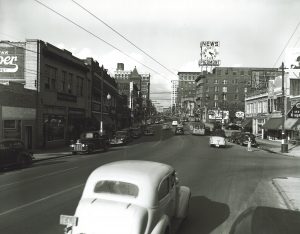 Bony Hampton Peace's three sons, B. H. Jr., Roger, and Charlie joined their father in the newspaper
business and made the newspaper a significant feature of life in the community. The Peace family did
not confine itself to the newspaper business. In 1933 they established Greenville's first radio station,
known by the call letters WFBC. They purchased the station license after it was relinquished by the
First Baptist Church of Knoxville, Tennessee. Thus the call letters WFBC stood for "First Baptist
Church," although many in Greenville thought the letters were for "Watch Furman Beat Clemson."
The call letters were later changed to WYFF'
In 1953 WFBC-TV televised its first program. Soon other newspapers and stations were acquired. In
1968 the newspaper and broadcasting operations were combined into Multimedia, Inc.