What's Old Is New: Piedmont Plush Mill
By Trey Scott
Serendipity Labs Coworking
I wish I could tell you the first time I saw the former Piedmont Plush Mills site. It was likely on a college
road trip to see a Clemson football game followed by a trip to downtown Greenville via Highway 123.
It had to be then, but the first time I saw its potential was about 18 months ago when I went on a
scouting trip to Greenville looking to locate the first Serendipity Labs Coworking in South Carolina. I
toured a lot of properties and vacant lots, but something about the brick building on a little less than
three acres of West Greenville drew me in.
I liked that it was an iconic looking building and located on the edge of Greenville's booming downtown.
I liked that it had been vacant for so long that many outside of the West Greenville area had long
forgotten it was founded in 1925 by Fred W. Symmes and Clifton Corley. It was designed by none other
than J.E. Sirrine.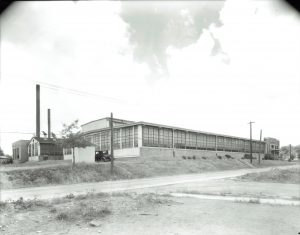 It was named "Plush Mill" because it was the first mill in South Carolina to make plush, a fabric with a
soft and luxurious feel. It later added mohair, velour and auto upholstery.
But this was more than a mill. According to a Greenville News Article from 1975, generations of families
worked there, earning higher than average wages, dedicated to the quality of their work. There was
always a waiting list of people wanting jobs there. This was part of the fabric of the community (no pun
intended).
That is why I am excited to have teamed up with Mark Peters of Fountain Inn to bringing this mill back to
life to help champion the next generation of Greenville's growth. As part of the project, the site has
been stripped back to its original size – gone are the additions and outdated buildings that were slabbed
on over the decades. From the outside, the building will look the same as it did in 1925 when it originally
opened for business. Greenville has an amazing talent for repurposing the old into something for the
future. Serendipity Labs will be part of that chain of success.
And while it will be a coworking space instead of a textile mill, I believe it echoes Greenville's past by
looking to the future. Just like Plush Mill was bringing a new concept to South Carolina (plush), we are
bringing a new kind of coworking concept.